Meet Chris
Chris likes to play guitar (a lot)…
Chris Cooper started playing guitar in 1988, when he shed years of exposure to The Beatles, The Grateful Dead and The Allman Brothers in favor of the punk scene – bands like Misfits and Dead Kennedys. But it wasn't until his first exposure to Joe Satriani that Chris understood the possibilities of his instrument.
Musical influences (a.k.a. let the woodshedding begin)
A friend of his turned him on to some jazz courses at a local college, where Chris found a world of guitar style and musicianship that he hadn't learned from the super-shredders. The courses had Chris learning from great players and exposure to the music of Wes Montgomery, Pat Metheny, George Benson, Miles Davis and Cannonball Adderly greatly influenced his playing.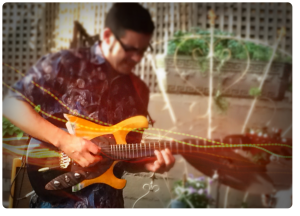 Studying jazz didn't undo his love of rock, though. Chris developed an admiration for Robben Ford, Mike Stern, Eric Johnson, Greg Howe, Guthrie Govan and Jimmy Herring – players whose fusion of advanced harmonic knowledge with overdriven, ripping guitar playing influences Chris greatly. Hybrid pickers like country music's Brent Mason, Albert Lee and Danny Gatton have also had a hand in shaping Chris' sound.
And, in Chris's words, "SRV still kills me every time I hear him."
Fast forward to the present
Chris's musical career has spanned decades and styles from fusion to country, both on stage, in the studio and in private lessons. Since 2004, he's lived in western North Carolina where he performs, creates and edits lessons and product demos on his YouTube channel Blue Collar Shred, records and teaches.
Chris's self-produced CD, "Lines" is available at iTunes.
Click below to subscribe to his YouTube Channel and get updates when new videos are available.